Founded in 1932 by Isaac Muga Martinez, Bodegas Muga has rightfully earned its spot as one of the most highly regarded producers in Rioja. Isaac's children took over in 1969 and a couple of years later the winery moved to its current location in the traditional Station District on the outskirts of Haro. The vineyard is still owned and run by the Muga family.
With control of around 400 hectares of vineyards, including 250 hectares of their own, Muga has no shortage of access to quality grapes. The vineyards are all situated at the foot of the Montes Obarenses in Rioja Alta, on the elevated western edge of the Rioja region.
Muga is known for their traditional approach to winemaking, paired with the most up to date techniques in grape selection and quality control. After strict selection the grapes are fermented in large oak casks (Muga has 90 of these in varying sizes) before aging in casks and barrels. With oak featuring so prominently throughout the winemaking process at Bodegas Muga, the quality of their casks and barrels is a top priority. So much so in fact, that Muga is one of only a handful of wineries in the world that maintain their own cooperage. Oak is imported directly from France and the United States to be transformed into the barrels and casks by Muga's team of three coopers and one cubero who is responsible for the large casks.
Once aging is complete, the wines are fined to clarify them. Again the method used is a traditional one. Fresh egg whites are added to the wine in large casks, dragging any fine sediment with them as they settle to the bottom. The remaining egg whites and yeast lees are then repurposed into high quality, natural compost which is applied to the vineyards. As with all Rioja, the wines are then bottled and given additional aging in bottle before release, ranging from 9 months for the Crianza, up to 3 years in bottle for their superb Gran Reserva 'Prado Enea'.
Once more following the traditional path, the wines are classic Rioja blends, with Tempranillo starring and Garnacha, Mazuelo and Graciano in supporting roles. Though red wines are definitely the focus here, Muga also produce a delicious white Rioja from Viura and Malvasia. Their crisp, dry and pale rosado is also a staff favourite round these parts.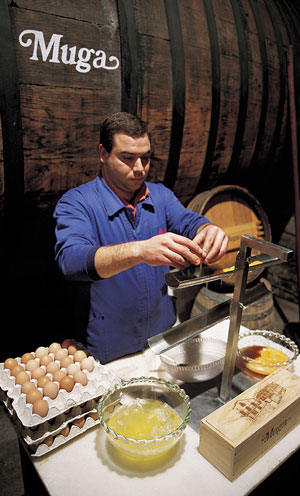 2022 Muga Rioja Rosado (Rose)

John Caro

A classy Rose from Spain that offers a properly dry palate with bright, nuanced aromatics. This wildly popular wine has strict allocations worldwide, and we can never get enough to keep everyone ...

read more

$28.99

in mixed 6+

or

$32.99

per bottle

2022 Muga Rioja Blanco

John Caro

A beautiful white Rioja. Muga reject 50% of their superb fruit for this high quality white, which is mostly the Viura grape (Macabeo) fermented on fine lees. Crisp and delicately fruited, it is ...

read more

$28.99

in mixed 6+

or

$32.99

per bottle

2019 Muga Reserva Rioja

James Suckling

One of our biggest selling Rioja, the Muga Reserva hits that perfect balance of modern and traditional. The fruit is clean and perfect, in a lush and bright and slightly spicy style, but elegant ...

read more

$44.99

in mixed 6+

or

$49.99

per bottle